Home
›
Community & Creativity
Thoroughbred Stallion "Crushes"
RebornRuffian12
Member
Hello everyone! RR12 here. Let's have some fun! I THOUGHT about putting this in "thoroughbred breeding", but felt more apt to put it here. Be honest ladies: what stallions have you swooning over them? Wanting to kiss their noses? Take their picture? Get a "hoofograph"? Don't be shy! One must be strong and true about their love! I ask only that you post pictures of your crush, and if you have pictures of you WITH your crush.... Please post by all means, and there is no limited number of crushes! Also, if you feel so inclined, you may tell WHY said-stallion is your "crush". I'll start first. Enjoy!
One of my MAIN crushes, is, as everyone on here knows:
Medaglia d'Oro
Age:
15
Reasons why I have a "crush" on him:
MdO is probably, for me, bar-none the most HANDSOME stallion at Darley America, if not IN America. But yet, not only is he handsome-- he has a pedigree, and progeny record to match! As well as being a fine racehorse in his own right, back in his day. This fine horse exudes class, and is a perfect gentleman; always winning the ladies over with class and suavity.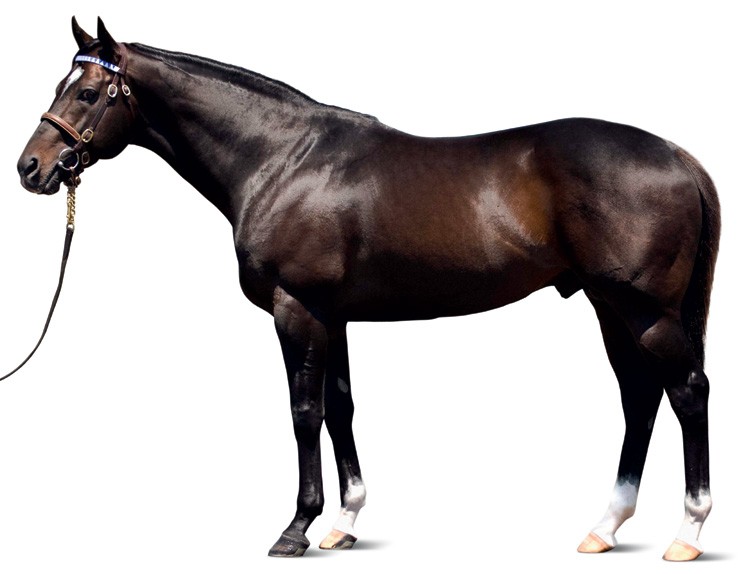 (photo owned by Darley Stud)
ANOTHER one of my crushes is the immortal:
A.P. Indy
Age:
25
Reasons why I have a "crush" on him:
Age is but a number! While he is older than myself in both equine AND human years: what this guy lacks in youth he makes up for in wisdom, experience, and sheer presence. He is unparalleled by all as a stallion save, possibly, his own sire.... And is perfectly relaxed--if grumpy at times-- in almost any situation. (On a personal note: he looks very cuddly)
(photo courtesy of Karen Estis)