Home
›
Active & Retired Thoroughbreds
Divine Sunset (Divine Park x Tropical Sunset, by Touch Gold) - An Owner's Personal Adventure!
jaefeathered
Member
It's been one of my life goals to own part of a racehorse and I'm thrilled to say that I've finally done it! I bought a share of Divine Sunset, a stunning 3yo bay filly by Divine Park out of Tropical Sunset, through the Thoroughbred Stock Exchange just this week.
I was looking for a horse based at one of the racetracks near me, who had nice conformation and a lot of potential. I loved the look of Divine Sunset immediately and she was based at nearby Laurel Park. After getting second opinions from a few friends (our wonderful
@Zenyen
included!), I pulled the trigger and bought a share.
Divine Sunset has had a single, troubled start in a MSW at Laurel going 5.5f on the turf, in which she hurt herself coming out of the gate and trailed throughout. She has since switched trainers to Wayne Potts and has new shoes, which should help her stability and traction during her next race.
Wayne Potts is currently looking for a race at Pimlico to enter Divine Sunset before the end of the meet on 6/26.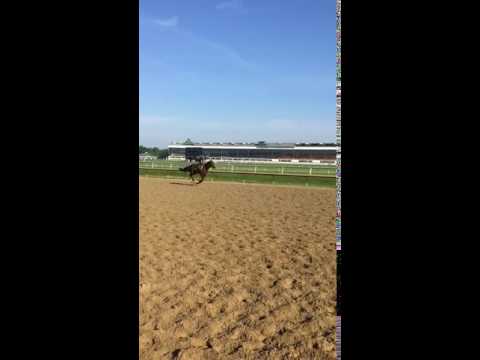 I'm still working out a good time for me to go up and see her in person, which I'm hoping will be before her next race. I look forward to sharing updates with you all!